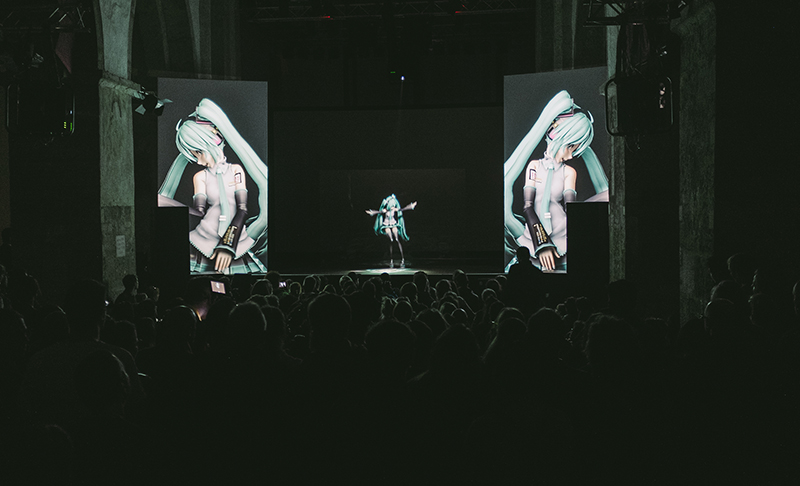 First presented at the transmediale/CTM festival for art and digital culture in Berlin, Still Be Here is a concert performance/essay portrait based on the japanese cult figure Hatsune Miku.
Two parts of the performance are availible on YouTube as stereoscopic 360° video
HERE
Commissioned by CTM Festival and transmediale – festival for art and digital culture berlin in collaboration with donaufestivalstival, Barbican Centre and Metal Liverpool.
Lyrics collected and randomized from: 1925, Freely Tomorrow, Tell Your World, Sayonara World End, Melt, Karakuri Pierot, Tachycardia, Packaged, Akatsuki Arrival, Kosuro Voc@loid, Dead End, Maigono Ribbon, Your Diva, My Time, World's End Umbrella
Many thanks to Crypton Future Media, Hiroyuki Ito, Mitsuhiro Takemura, Telematique, Kazuma Glenn Motomura, Rudolph Arnold, Anne Oren
Special thanks to models TDA Hatsune Miku Append, Mamama's Hatsune Miku Appearance and software MMD Tool, Nitroman, MMD Transporter, Eiichi Takebuchi, Mikumikudance/Yu Higuchi, Mikumikumoving/Mogg, Mikumikucapture/Buitt.
This work features an adaptation of Hatsune Miku © Crypton Future Media, Inc. 2007, licensed under CC-BY-NC
back